~Výhodné balení~
Look after your skin the non-invasive way, with no preservatives and with advanced peptides.
A unique anti-ageing serum, made directly from active ingredients, tackles the main signs of skin ageing. The serum is based on concentrated biologically active low molecular weight hyaluronic acid, which improves the absorption of active ingredients into the skin. There is up to 25 times more of it in the serum than in conventional products. Clodessine and Recelline peptides, vitamins and other effective anti-ageing ingredients in skin cells activate the defence and repair processes inherent in young skin, to prevent premature skin ageing naturally.
Thanks to its pure ingredients, the serum is particularly suitable for use on the eye area.
The serum is supplied in the form of dry nanofibres that need to be activated by adding water. For best results, we recommend using the FRESH essence instead of water.
The high content of low molecular weight hyaluronic acid may, in rare cases, lead to a temporary feeling of tightness or dry skin. We therefore recommend applying moisturiser after application.
Third place in the Best Luxury Serum category in the 2021 Cosmopolitan Beauty Awards.
"Concentrated active ingredients in a unique nanofibre form."
28 doses
MANUAL
IN BRIEF
High content of low molecular weight hyaluronic acid
A unique delivery system that improves the absorption of active ingredients into the skin
Softens, smooths and soothes the skin instantly
Reduces fine and deeper wrinkles
Firms and lifts the skin
Evens out and brightens the skin
Reduces enlarged pores
Reduces crows' feet, dark circles and puffiness
Completely free of preservatives, perfumes, dyes, silicones and other substances that may cause skin irritation
Use as step 3 of your skincare routine or on its own
Suitable for day and night use
For all skin types at any age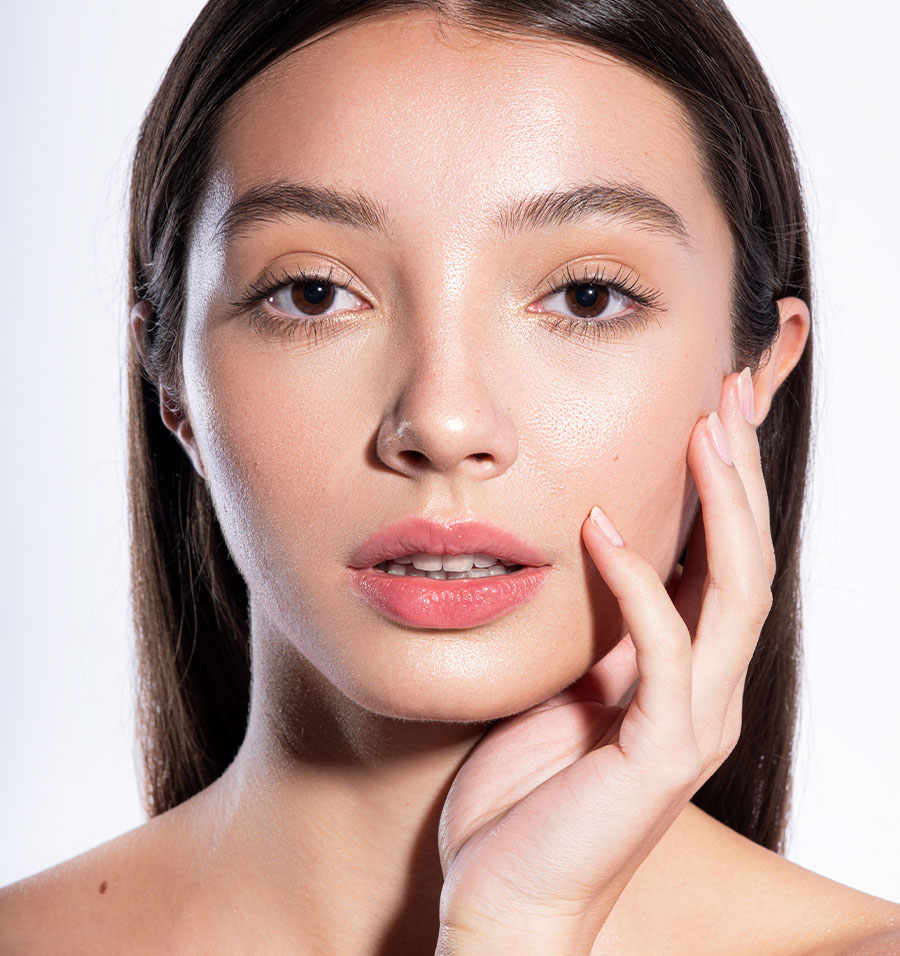 HOW IT WORKS
Concentrated low molecular weight hyaluronic acid creates "channels" in the upper layer of the skin through which it penetrates into deeper layers, bringing with it other active ingredients contained in the serum. Not only is concentrated low molecular weight hyaluronic acid better absorbed, it also improves the absorption of other active ingredients. The higher concentration and better absorption of active ingredients lead to maximised effectiveness of the serum.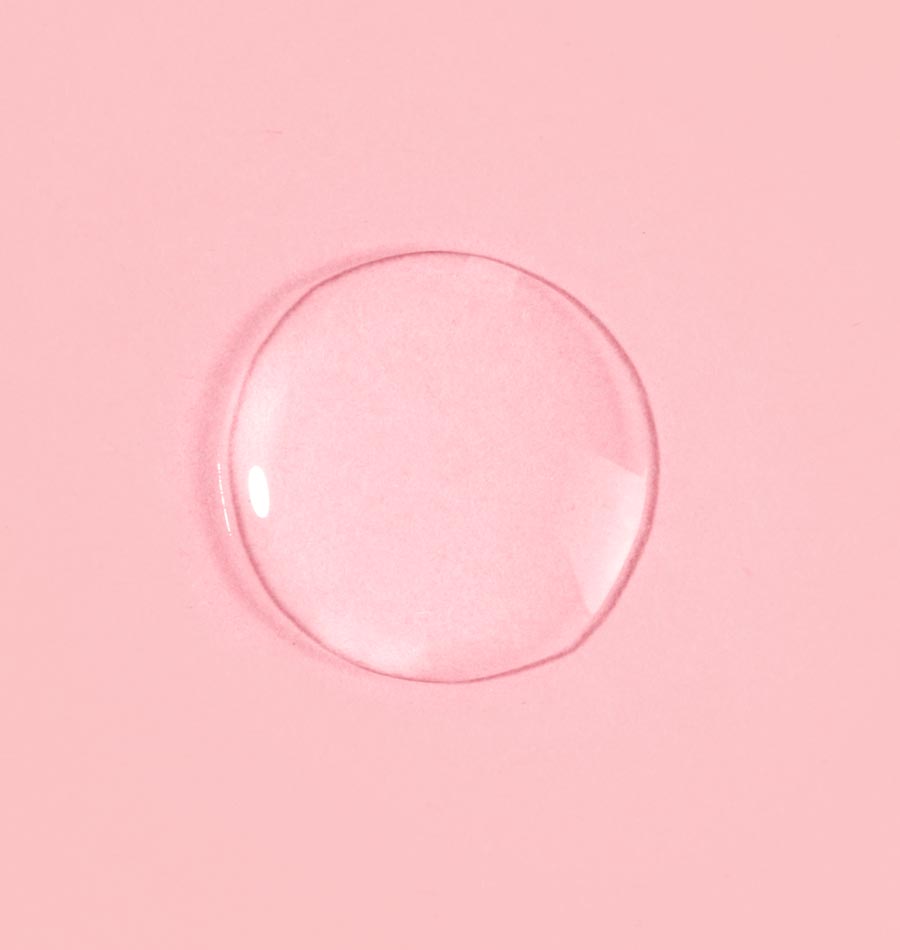 KEY ACTIVE INGREDIENTS
LOW MOLECULAR WEIGHT HYALURONIC ACID
Biologically active hyaluronic acid, penetrates into the deeper layers of the skin, promotes collagen production in the skin
THE CLODESSINE PEPTIDE
An effective anti-ageing ingredient, the active part of Klotho, the natural longevity protein, increases the antioxidant capacity of skin cells
THE RECELLINE PEPTIDE
An effective anti-ageing ingredient, activates proteasomes, helps repair damaged proteins in the skin and repair DNA in skin cells
NIACINAMIDE (VITAMIN B3)
Reduces wrinkles, evens out and brightens the skin, improves the skin barrier
VITAMIN C
Neutralises free radicals, evens out and brightens the skin, promotes collagen production in the skin
VITAMIN E
Neutralises free radicals
PANTHENOL
Soothes, moisturises, anti-inflammatory
INNOVATION
A new non-invasive skincare method using nanotechnology.
DIRECTIONS FOR USE
Detach one blister and remove the seal. Keep the nanofibres in the blister, it will serve as a dish for the preparation of the serum. Using the enclosed pipette, add 8 to 12 drops of water to the nanofibres. The nanofibres will dissolve instantly and create the serum. Using your finger, stir the serum thoroughly, apply to the skin and massage in gently. The serum is intended for immediate use and cannot be stored for later. We recommend using a moisturiser after the serum is fully absorbed.
Keep the remaining blisters tightly sealed in the original pouch. Store the pouch in a dry place at temperature between 5°C and 25°C.
Smart tip
Use the FRESH essence to activate the NANO serum instead of water. The essence will increase the effectiveness of the serum.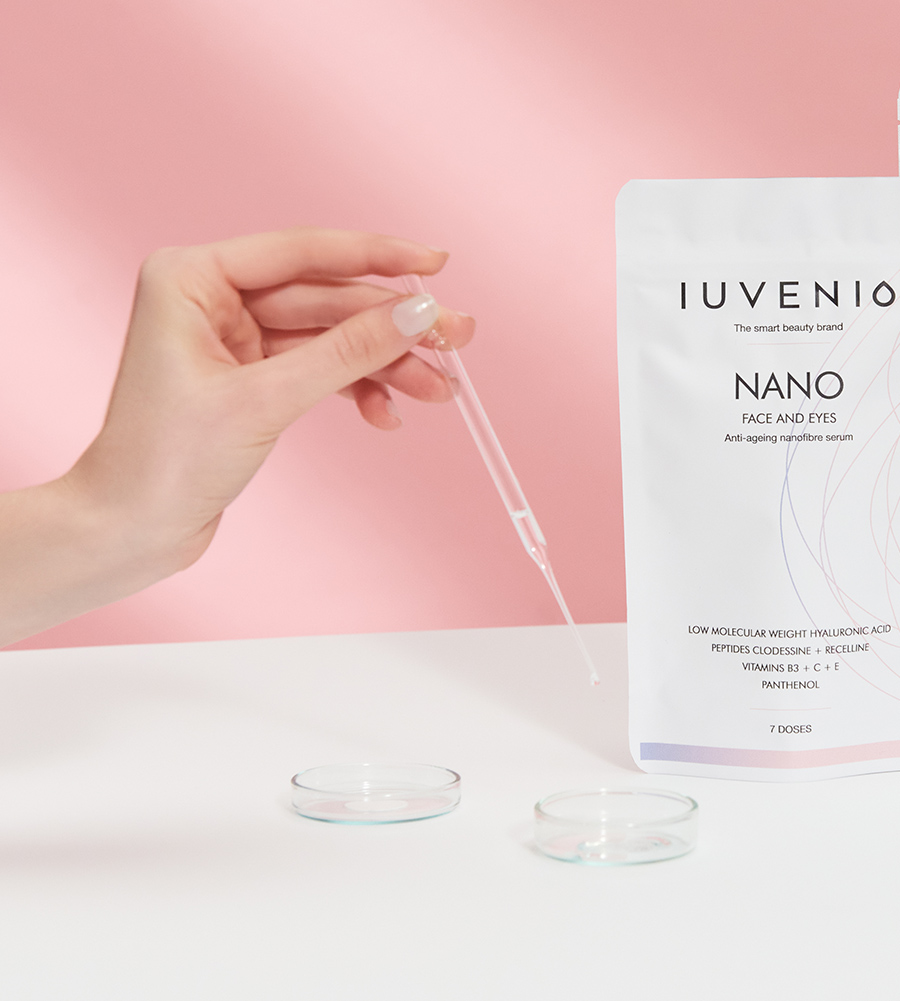 INGREDIENTS
SODIUM HYALURONATE, PEG-9M, NIACINAMIDE, PANTHENOL, SODIUM ASCORBYL PHOSPHATE, TOCOPHERYL ACETATE, SH-NONAPEPTIDE-4, PENTAPEPTIDE-60 S-METHANOCALDOCOCCUS JANNASCHII HEPTAPEPTIDE-1
DM
Dagmar Měřínská
Spokojenost,objednavam opakovame.
E
Eva
Veľká spokojnosť!
JV
Jiřina Vavřičková
Jsem moc spokojená. Budu pokračovat. Děkuji
JP
Jana Pokorná
jsem spokojená,splnuje moje požadavky
PK
Petra Klučková
zdá sa, že sérum funguje, pleť je po nanesení okamžite vypnutejšia a krásne hladká. treba použiť hydratačný krém.
JV
Jitka Vinšová
Kdybych si měla vybrat jeden jediný produkt z Iuvenio značky, tak toto sérum, efekt okamžitý, doslova gumuje póry. Jediný problém mám teď v tom, že není na skladě :)
RK
Radka Košková
Jsem spokojená, pleť je krásně vyhlazená. Musí se použít navrch krém, jinak stahuje. Jediný problém je samotná kapsle, jde mi těžko otevřít.
MB
Miroslava Bandová
Dokonalý produkt, pleť je vyhlazená a příjemná, po aplikaci séra nanáším krém VITAL, ačkoliv mám mastnou pleť, absolutně mi vyhovuje, pleť mám opravdu zdravější.
DS
Dagmar slivková
Jsem spokojená pleť je mnohem lepší
JZ
Jana Zelenkova
Podobně jako další hodnotitelky i já cítím po nanesení pnutí obličeje, jako kdyby byl suchý. Po chvíli to přejde a nebo použiji krém. Mám citlivou zralou pleť, která se používáním séra velmi zklidnila a jako by prozářila. Jsem spokojená a budu používat i nadále.
ŠK
Šárka Königová
Jsme moc spokojená, určitě mohu doporučit i s ostatní produkty.
M
Marketa
Za mne pecka!Plet je stavnatejsi,pevnejsi a vyhlazenejsi.Pro dokonaly efekt je treba pouzit essenci a krem.
HŠ
Helena Štěpánková
Cítím vylepšení pleti, nutnost následně použít krém.
LH
Ludmila Horáková
Ne zatím žádné změny, používám už 2tydny, tak nevím
I
IUVENIO
(Administrator)
Dobrý den, Ludmilo. Velice nás mrzí, že sérum nesplnilo Vaše očekávání. Adéla, iuvenio
LJ
LENKa Joudlova
Jsem spokojená a pleť taky.
MH
Martina Hájková
velmi spokojena, plet je o hodně pevnější
Be the first who will post an article to this item!